(Updated september 2022)
A DAW is the software you will use to compose your music. DAW stands for "Digital Audio Workstation". The choice of a DAW is quite stressful because you know that you will spend a moment learning how to use it and do dozens of production with this one. So it's better to choose the one that suits you the best from the start.
The choice will depend mainly on your budget, your OS (Mac, PC or Linux) and your level in composition / mix (or the one you want to achieve).
The musical style can play a role as well, but as most DAWs allow the use of VST, they are no longer limited to their home instruments and can adapt to almost any style.
In this article, I will help you clear the current offer and choose your DAW.
HOW TO HAVE AN IDEA OF A DAW BEFORE BUYING IT?
You can start by watching test videos on youtube. You will find on most existing softwares. The interest of videos is that you see the software in action.
Also, most softwares has a trial version either with all the features but limited to 30/60 days or an unlimited time version but with the impossibility to save or export the title created. It's a good way to test software before you buy it.
Other software is available in a "lite" version with less functions / instruments. The price is often more accessible and allows you to start producing and training before moving to the more complete version especially as the transition to the full version is via an update often cheaper than the full license alone.
Keep in mind that if you have tested the full trial version of the software to make your choice, you may feel cramped with the "lite" version. I advise you to put more budget aside and take directly the full version.
Each DAW has its own philosophy. It will be more or less easy for you to understand. I can not advise you too much to take in hand DAWs which interest you to have the best possible idea of ​​their use.
WHAT ARE THE DAWS AVAILABLE ON THE MARKET?
There is a plethora of software. All are able to give good results. Some more easily than others in some areas because they all have their favorite field.
Here is the list of the best known software on the market. I have tried to be as concise as possible so that you can get an idea of the capabilities of the different DAWs available.
Let's go over them:
I went around the existing DAW but this list is certainly not exhaustive. There are other more specialized DAWs such as "Nuendo" for film / video games and dubbing, "Sequoia" for broadcasting or "OhmStudio" which relies on a collaborative system in the cloud. There is also "QTractor", a free and open source daw but uniquely under Linux. I wanted to go around and take the ones that seemed the most pros so you can start with the tool that will best meet your needs.
WHICH ONE TO CHOOSE?
Mostly, DAWs are quite general. You can use synths as well as record vocals or physical instruments, but although they all have pretty much the same kind of tools, they all have strengths in some areas. The most complicated is to find the one which you will be most comfortable with.
I can help you a little in your choice with the list of "If":
– If you mainly plan to make electronic music then you can look at FL Studio, Ableton Live, Reason and Waveform that started in this area before expanding their functionalities.
– If you mainly want to compose from physical instruments and make live sound recording, then see Pro Tools, Logic Pro, Cubase, Studio One and Samplitude which have dedicated tools and very good audio tracks management.
– If you want to learn quickly, FL Studio and Studio One are the fastest DAWs to learn.
– If you have a Mac and you already use Garage Band, look at Logic Pro.
– If you are on Linux so Tracktion Waveform, Bitwig Studio, LMMS and Ardour will be perfect.
– If you're the type to want to tweak your mixes then look at Pro Tools or Samplitude.
– If you plan to do the scene, Ableton Live or Mixcraft are the best choices.
– If you have the taste of the hack and you want a modular soft, Usine Hollyhock, Reason, Bitwig Studio or Studio One will suit you like a glove.
– If you want to have fun in sound design and create your own instruments, then Reason, Bitwig Studio or Studio One are perfect for you.
– If you are looking for a DAW as general as possible then see between Logic Pro, Studio One, Cubase, Reason and Samplitude.
– If you often compose on the move look at N-Track or Fl Studo Mobile.
– If you are looking for a free pro DAW then Cakewalk, Waveform Tracktion or LMMS are the wisest choices.
There are really no rules in this regard in choosing your DAW. Nothing prevents you from changing along the way and especially you can use multiple softwares at the same time to have the best of each of them. For example, you can easily create your titles in FL Studio and mix with ProTools or Samplitude.
I started myself with Fruity Loops (former name of FL Studio) before moving to Reason from Reason Studios. I loved Fruity Loops for its ease of use and its intuitive side and I loved Reason for its modularity and its procedural side. You see changing software is not really a big deal.
I hope this list will help you in your choice. Leave me a message in the comments if you liked this article, if you have any comments or if you have questions or topics that you would like me to talk about.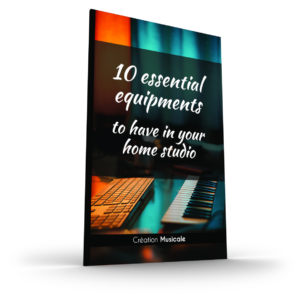 Interested by this post!
&nbsp
Subscribe to the newsletter to receive the new ones + my eBook "10 essential equipments to have in your home studio" for FREE!
(You'll receive max. one email per week)
Your information will stay confidential.