A DAW is the software you will use to compose your music. DAW stands for "Digital Audio Workstation".
There are many on the market. Most are quality ones. But there are for me 9 essential qualities that must have a DAW to be the most versatile software possible.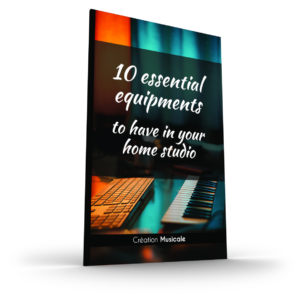 Interested by this post!
&nbsp
Subscribe to the newsletter to receive the new ones + my eBook "10 essential equipments to have in your home studio" for FREE!
(You'll receive max. one email per week)
Your information will stay confidential.
01 – EASY TO USE.
Once learned most DAWs are easy to use but not all are equal in ease of learning. Most often a software long to learn is also a fairly complete software because there are many functions to understand.
Anyway learning a new DAW may seem heavy for some people but ultimately getting started is the biggest step. The rest is just practice.
02 – HAVE A GOOD BUNDLE OUT OF THE BOX.
The DAWs come with a bundle. That is virtual instruments, loops, integrated effects, etc … Everything ready to use. The goal is that you can start producing at the end of the installation.
Some DAWs have a larger bundle than others. Ask about the DAW bundle you want to buy based on your style of music as it would be a shame to find yourself stuck because you do not have the tools to make your music.
Subsequently, you will be able to acquire virtual VST instruments that will complete your initial bundle.
03 – BE COMPATIBLE WITH VST INSTRUMENTS.
A Virtual Studio Technology (VST) is a kind of plugin that can be used by your DAW. A VST can as much be an instrument (synth, sampler, …), as an effect (compressor, delay, chorus, …). Given the quality of the current VST offer, a good DAW must be compatible with these plugins. Especially if you change DAW, the VST you bought, can be used with the new one. This is not the case for integrated "house" instruments.
04 – BE COMPATIBLE MIDI.
The MIDI protocol (Musical Instrument Digital Interface), allows you to control your virtual instruments with physical controllers (keyboards, faders, knobs, …). It is nice enough to be able to act on your DAW via a physical interface. It's much faster and more intuitive than doing it with the mouse.
This is also, this protocol which is used to place notes one by one in your DAW. These tracks are called Midi tracks.
The good news is that the Midi protocol is old enough that the majority of DAWs are compatible with it. All you have to do is find the midi controller that will be most useful to you. As in this article: Master Keyboard, which one to choose ?
05 – BE ABLE TO MANAGE LOOPS AND AUDIO TRACKS.
The audio tracks are tracks where you can place audio files like wav or aiff for the most famous ones. The audio loops are neither more nor less than audio files. Some loops have information about the tempo from which they come. So, when you import it on your track, it will adapt to your tempo not to be shifted.
Many DAWs have audio tracks in addition to midi tracks (seen above) but the management of it may be different from one software to another. For example: With Logic Pro, you can easily duplicate a loop to make it last the time you want. The copies will be contiguous and dependent on the starting loop. If you move this loop, the copies will follow. By cons in Reason, you must copy and paste the loops to spread over the desired portion of the title. They will all be independent elements.
06 – BE ABLE TO RECORD EXTERNAL SOUNDS ON AN AUDIO TRACK.
This is essential if you know how to play one or more instruments and have microphones to record them. Using an instrument to compose is a good thing. You can read my article on the subject: 5 good reasons to make music with an instrument.
You may also want to record with voice. The majority of DAWs allow recording via external sources. The management of this recording differs from one software to another. Some will allow you to do several shots on top of each other and then choose the best while for others, you will play the takes one after the other and then cut the audio file to isolate the better take.
07 – BE ABLE TO MANAGE EXTERNAL MIDI INSTRUMENTS.
Here I talk as much about communicating with another DAW as with external studio instruments. Since most DAWs have MIDI inputs and outputs, you will be able to use a homemade DAW instrument on a MIDI track in another software. Basically, it's like one of the DAWs has become a VST. But where it's interesting is when you use a MIDI track to play sounds on an external physical synth and you get those sounds in your mix.
If your goal is to eventually have a studio with rack-mounted instruments around you and everything communicates well with your DAW then you will have to make sure of that during your purchase.
08 – HAVE A COMPLETE VIRTUAL MIXING TABLE.
This is a very important element of a DAW. The virtual mixer will allow you to mix your different tracks to have something as professional as possible. The primary difficulty of a mixer is its readability. With repetitive visual elements next to each other, it is sometimes difficult to navigate. Fortunately, some DAWs offer possibilities to overcome this problem, such as coloring tracks. For example: Propellerheads Reason replicates a studio mixer with fairly powerful built-in effects, yet rigid, while FL Studio opts for a more modular and scalable virtual table in both height and width.
09 – BE USABLE IN NOMAD.
You may want to have your DAW, also, on a laptop so you can compose or put some ideas while on the move. Most DAWs allow this via an internet login (which will require you to have a connection) or via a USB dongle (it's a usb key that you connect to the computer to prove you have a license to Without this dongle, the software will not run.). If you are the nomadic type, make sure this option for your DAW.
If you are going to buy a DAW, I am preparing an article to help you in your choice. To be sure to receive the article as soon as it is published, subscribe to the newsletter. It's free !
I hope this list will be useful in your creations. Leave me a message in the comments if you liked this article, if you have any comments or if you have questions or topics that you would like me to talk about.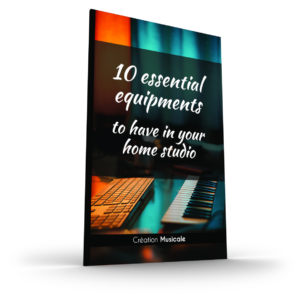 Interested by this post!
&nbsp
Subscribe to the newsletter to receive the new ones + my eBook "10 essential equipments to have in your home studio" for FREE!
(You'll receive max. one email per week)
Your information will stay confidential.
Photo by : Pexels